What can I do with a degree in Physics?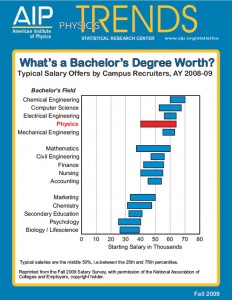 The simple answer is "anything!" Physicists find careers in industry, medicine, education, public policy, and, yes, even physics research. In fact, a majority of graduates ultimately enter careers that wouldn't be traditionally associated with physics. What they found is that a physics degree gives you the critical problem-solving and quantitative skills applicable to almost any profession. The American Institute of Physics (AIP) maintains statistics on the wide variety of career opportunities available to physics students. The American Physical Society (APS) also provides useful information on various career paths. Regardless of what you choose to do with your degree, your starting salary will place you among the highest paid among your fellow graduates.
Where do GT physics graduates go?
The American Institute of Physics compiles detailed statistics on numerous aspects of post-graduation employment, such as "Where Physics Bachelor's Work". But what about GT graduates? After receiving their BS in Physics from GT, unsurprisingly, roughly 75% of them continue their education in graduate school. However, what may be surprisingly is that only 40% of those are in Physics! The other 60% that continue their education go into fields such as engineering, medicine, law, and education, thanks to the strong preparation provided by their BS in Physics. How good is it?
For those students that decide to enter the workforce immediately after graduation, about 60% go into industry, working for companies such as Applied Physical Sciences, Georgia Power, and Kairos Aerospace, just to name a few. Beyond STEM (Science, Technology, Engineering, and Mathematics related) careers, about 10% of GT Physics BS graduates each go into education (K-12 primarily), government, and other "non-STEM" . "Government" includes scientists in the military and national labs, while "healthcare" includes jobs such as radiation technicians, among others. Also, be sure to check out Who's Hiring Physics Bachelors?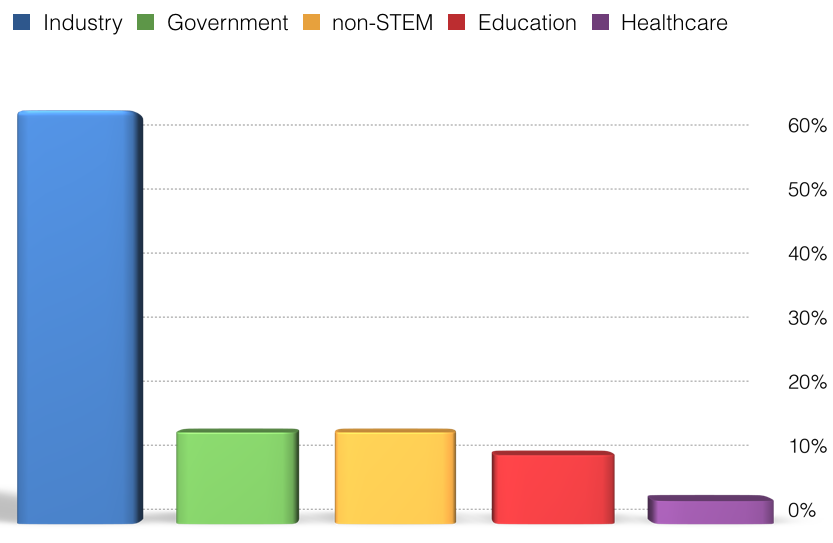 Careers by sector after receiving a BS in Physics from Georgia Tech.
What about graduate school?
If physics is your passion, you will want to consider continuing your education in the subject by doing a master's or PhD degree. About 30% of all GT Physics BS graduates go to graduate school in physics, similar to the national average. These students attend schools including University of California at Berkeley, University of Colorado at Boulder, and Northeastern University, among many others. While in graduate school, you will likely be supported by a research or teaching assistantship (RA or TA), which covers your tuition and offers a small stipend. It may not be much, but it means that you will not accrue additional debt from earning a PhD (master's programs vary significantly). Afterwards, most PhDs enter careers in basic research in universities (29-33%), government (14-17%), or industry (45-49%). Finally, preparation for and applying to graduate schools is a subject all unto itself! Just know that the three most important factors will be
GPA
Research experience
GRE Physics score
From the very beginning of college, focus on maintaining high grades. A freshman C or D can come back to haunt you when applying to graduate school! Also, within the first couple of years, try to find an area of research that is interesting to you and approach a professor in that area to work with them part time. Finally, by the end of the third year, start preparing for the Physics GRE, a standardized test that practically all Physics graduate programs require.
Still unsure?
Check out the great resources available through the Society of Physics Students: