You'll enjoy all of the benefits of the major city, with easy access to numerous recreational and entertainment opportunities. The pleasant climate allows year-round outdoor activities and both the mountains and the coast are within a reasonable distance.
A Global City
With a growing population of 6.1 million residents, the 8th largest metro area in the nation has more than 2,100 international businesses and the third largest concentration of Fortune 500 headquarters in the United States. CNN, The Coca-Cola Company, Delta Air Lines, The Home Depot, UPS, U.S. Center for Disease Control and Prevention, and American Cancer Society are just a few organizations that call Atlanta home.
Consistently ranked among the best American cities for business and technology, Metro Atlanta is the business and distribution center of the Southeast – with the nation's fifth-largest concentration of supply chain employment. This is a major bioscience and high-technology hub and supports more than a dozen incubators for innovative emerging businesses.
Atlanta houses chambers of commerce and foreign consulates from 73 countries. In addition, the world's busiest airport, Hartsfield-Jackson International Airport, offers direct flights to major destinations around the world.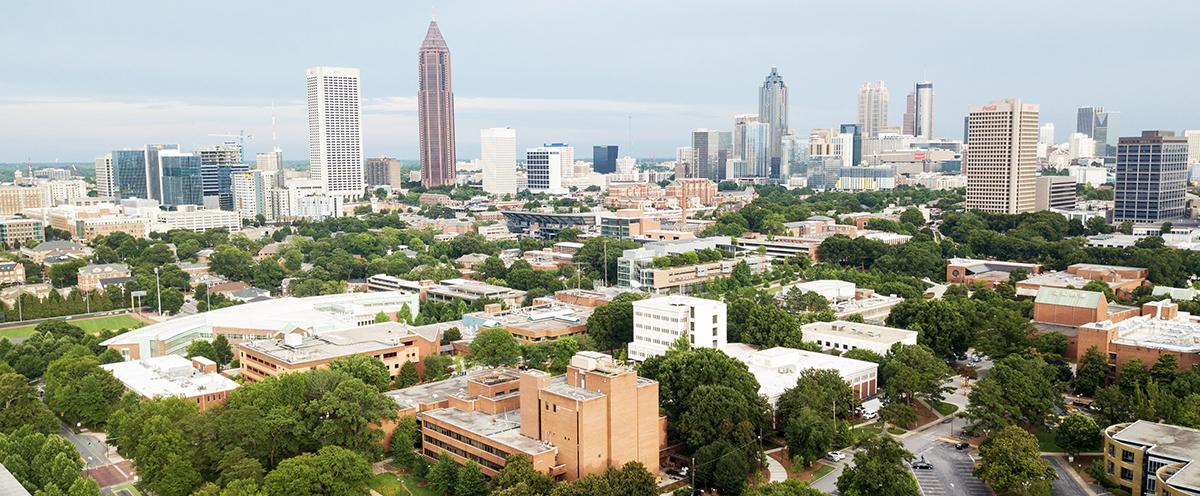 Affordable Living
The cost of living consistently ranks below the national average and is considerably less expensive compared to other major metro areas, making Atlanta an affordable place to live. You'll enjoy the benefits of a major metro area with numerous networking, community and recruiting opportunities, without compromising access to entertainment, recreation and quality of life.
Recreation and Cultural Scene
The Woodruff Arts Center — which includes the Atlanta Symphony Orchestra , the Alliance Theatre , and the High Museum of Art — is located close to Georgia Tech and the Ferst Theater for the Arts is located on the Georiga Tech campus. DragonCon is held annually in Atlanta, which is the largest multimedia, popular culture convention focusing on sci-fi & fantasy, gaming, comics, literature, art, music, and film. Atlanta is conveniently located within driving distance of the mountains and the coast. The mild climate makes outdoor activities possible year round.
The site of the 1996 Olympic Games, Atlanta is also home to exciting professional sports teams, including the Atlanta Braves (baseball), Falcons (football), Hawks (basketball), and United (soccer).
Atlanta has a plethora of dining choices. From simple homestyle cooking to fine dining, there is something for everyone. If you are a fan of Top Chef, you can try the cooking of contestants Richard Blais and Kevin Gillespie and judge Hugh Acheson. If you want to experience the world's cuisines without leaving the city, a trip to Buford Highway will let you try Korean, Chinese, Indian, Mexican, Vietnamese, Salvadoran, Colombian, and Malaysian food, among others. And, of course, you can find good barbecue and fried chicken (and even quality vegetarian and vegan food).
---
External Links