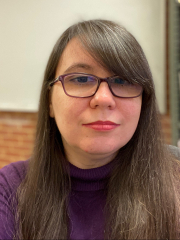 Education
Ph.D. Physics (Physics Education Research, Doctoral Minor in Higher Education), Georgia Institute of Technology (2020)

M.S. Astronomy & Astrophysics, Pennsylvania State University (2011)

B.S. Physics, University of Puerto Rico at Mayagüez (2003)
Research Interests
My research focuses on the professional development of physics graduate teaching assistants (GTAs). I developed and taught the course CETL 8000 PH1 - Physics GTA Preparation, along with the Physics GTA Resources website. I continue working on data analysis from the first seven years of the GTA prep class, and continue to modify and improve its curriculum on a yearly basis.
My other research interests include feedback and assessment of teaching effectiveness, students' approaches to problem-solving in introductory physics, and physics/astronomy outreach methodologies within the frameworks of Physics Education Research (PER). 
In the past, I did research on gravitational waves from cosmological black hole mergers at NASA's Goddard Space Flight Center.
Honors and Awards:
While at Georgia Tech
OMED Tower Award (2020)

Weatherly Travel Award (2017)

Georgia Tech Graduate Student Instructor of the Year (2017)

School of Physics Graduate Student Instructor of the Year (2017)

SGA Conference Fund Award (2016, 2017)

POD Network GPSD Career Development Award (2016)

Goizueta Foundation Fellowship (2015-2018)

AAPT Outstanding Physics Teaching Assistant Award (2013, 2015)
Before Georgia Tech
Time-off Award (NASA GSFC, 2010)

Bunton-Waller Fellowship (Penn State, 2003-2005)

Braddocks/Roberts Fellowship (Penn State, 2003)

Rahsaan Jackson Presentation Award (NASA GSFC, 2003)

Enrico Fermi Physics Award (UPR Mayagüez, 2003)
Papers:
Author queries: ADS / NTRS / arXiv
E. Alicea-Muñoz, C. Subiño Sullivan, M.F. Schatz. Transforming the preparation of physics graduate teaching assistants: Curriculum development. Phys. Rev. Phys. Educ. Res. 17, 020125, 2021 (link)
E. Alicea-Muñoz, J. Espar Masip, C. Subiño Sullivan, and M.F. Schatz. Assessing a GTA professional development program, PERC Proceedings, 2017 (arXiv link)
Memberships and Committees:
Georgia Tech
SoP Diversity, Equity, and Inclusion (DEI) Committee (2020-present; co-chair 2021-present)

SoP Undergraduate Program Committee (2021-present)
Professional Societies
American Association of Physics Teachers (AAPT)

American Physical Society (APS)

Professional and Organizational Development (POD) Network in Higher Education
Talks:
Invited Talks
Classroom observations as part of TA training (AAPT Summer Meeting 2022)

Time Management for Physics TAs (Invited Workshop (remote), ETH Zürich, 2022)

Transforming the Preparation of Physics Graduate Teaching Assistants (Virtual Physics Colloquium, Ohio State, 2021)

Transforming the Preparation of Physics GTAs (Juried Talk, Virtual PERC 2020)

Roleplaying in GTA Preparation: Microteaching and Lab Simulation (AAPT Virtual Summer Meeting 2020)

Transforming the Preparation of Physics Graduate Teaching Assistants (PER Seminar, Department of Physics and Astronomy, Michigan State University, 2019)

TA Professional Development: A Graduate Student's Perspective (APS March Meeting 2016)

Mentoring TAs: Lessons Learned from the Physics GTA Development Program (CETL Engaging Conversations Series, 2014)
Contributed Talks
Remote GTA Preparation: the Good, the Bad, and the Ugly (AAPT Virtual Summer Meeting 2021)

Research Results and Best Practices for GTA Preparation (AAPT Virtual Summer Meeting 2020)

Looking back on six years of GTA preparation (AAPT Summer Meeting 2019)

What elements of GTA development do GTAs find most useful? (AAPT Summer Meeting 2017)

Effects of a professional development program on GTA teaching effectiveness (AAPT Winter Meeting 2017)

Disciplinary TA Development: Partnerships between Centers and Departments (POD Network Conference 2016, co-presented with Dr Carol Subiño Sullivan)

Design and Implementation of a Physics GTA Development Program (AAPT Summer Meeting 2015)

Training and Career Development of Physics Teaching Assistants (AAPT Summer Meeting 2014)
Posters
Assessing a GTA Professional Development Program (PERC 2017)

GTA Preparation in the School of Physics (GT STEM Education Research Expo, 2015)

Training and Career Development of Physics Teaching Assistants (PERC 2014)
Before Georgia Tech
Black Hole Mergers as Probes of Structure Formation (Astrophysics Science Division Seminar, NASA GSFC, 2010)

Using Black Hole Mergers to Explore Structure Formation (Poster, AAS Meeting 2009)

Using Black Hole Mergers to Explore Structure Formation (Poster, 24th Texas Symposium on Relativistic Astrophysics, 2008)

Black Hole Mergers as Probes of Structure Formation (Research Talk, 11th Eastern Gravity Meeting, 2008)

Massive Black Hole Merger Rates (Poster, AAS Meeting 2006)

Massive Black Hole Merger Rates (Research Talk, 9th Eastern Gravity Meeting, 2006)

Massive Black Hole Binary Merger Rates in a Hierarchical Model of Structure Formation (Poster, APS April Meeting 2005)

Massive Black Hole Binary Merger Rates in a Hierarchical Model of Structure Formation (REU Talk, NASA GSFC, 2004)

PoST Pixel Differentiation at Low X-Ray Energies (REU Talk, NASA GSFC, 2003)

Pulsations in Metal-Deficient Field Giants (Poster, AAS Meeting 2003)

Pulsations in Metal-Deficient Field Giants (REU Talk, Harvard-Smithsonian Center for Astrophysics, 2002)

Investigations of Single Pulses from Radio Pulsars (Research Talk, 22nd Puerto Rico Interdisciplinary Scientific Meeting, 2002)

Diffraction Effects in SURF Beamline 3 (REU Talk, NASA GSFC, 2001)

Investigations of Single Pulses from Radio Pulsar PSR 0540+23 (Research Talk, 21st Puerto Rico Interdisciplinary Scientific Meeting, 2001)