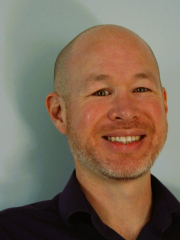 Education:
Ph.D. in Physics, Stanford University, 2007
B.S. in Physics, Georgia Institute of Technology, 2001
Research Interests:
Computational astrophysics – Star and galaxy formation, Supernovae, Black hole evolution I study the intricacies of both the distant and nearby universe, using state-of-the-art numerical simulations that are run on the world's largest supercomputers. We are especially interested in the first billion years of the universe, where the building blocks of today's galaxies assembled, forming the first stars and galaxies in the universe. Between 300,000 and 50 million years after the Big Bang, the universe was a relatively simple place with neither stars nor galaxies, only darkness. The evolution of the universe during this epoch is well described by analytics. Afterwards, cosmic structures grow non-linearly, and it is further complicated by star and galaxy formation. This is where numerical cosmology simulations come into play. Simulations strive to include all of the relevant physics and resolve the relevant length scales to accurately model this non-linear regime.
Honors and Awards:
College of Sciences Eric R. Immel Award for Excellence in Teaching, 2015
Dunn Family Professorship, 2015-2017
Hubble Fellowship, 2009-2011
NASA Postdoctoral Program Fellow, 2007-2009
Papers:
(Up-to-date Publication list from NASA ADS, arXiv, and Google Scholar)
2020
Aykutalp, A., Barrow, K. S. S., Wise, J. H., Johnson, J. L. 2020, "Induced metal-free star formation around a massive black hole seed", Astrophysical Journal Letters, submitted

Chiaki, G., Wise, J. H., Marassi, S. Schneider, R., Limongi, M., Chieffi, A. 2020, "Seeding the second star – II. Enrichment from faint supernovae and the formation of carbon-enhanced metal-poor stars", Monthly Notices of the Royal Astronomical Society, submitted

Narayanan, D., Turk, M. J., Robitaille, T., Kelly, A. J., McClellan, B. C., Sharma, R., Garg, P., Abruzzo, M., Choi, E., Conroy, C., Johnson, B., Kimock, B., Li, Q., Lovell, C. C., Lower, S., Privon, G. C., Roberts, J., Sethuram, S., Snyder, G. F., Thompson, R., Wise, J. H. "Powderday: Dust radiative transfer for galaxy simulations", Astrophysical Journal, submitted

Park, K., Wise, J. H., Bogdanovic, T., Ricotti, M. "Biconical gas fueling onto seed black holes in hyper-accretion regime", Astrophysical Journal, submitted

Regan, J. A., Haiman, Z., Wise, J. H., O'Shea, B. W., Norman, M. L. "Massive star formation in metal-enriched haloes at high redshift", Open Journal of Astrophysics, submitted

Skinner, D., Wise, J. H. 2020, "Cradles of the first stars: self-shielding, halo masses, and multiplicity" Monthly Notices of the Royal Astronomical Society, 492, 4386

Regan, J. A., Wise, J. H., O'Shea, B. W., Norman, M. L. 2020, "The emergence of the first star-free atomic cooling haloes in the Universe", Monthly Notices of the Royal Astronomical Society, 492, 3021
2019
Kim, J.-H., Wise, J. H., Abel, T., Jo, Y., Primack, J. R., Hopkins, P. F. 2019, "High-redshift Galaxy Formation with Self-consistently Modeled Stars and Massive Black Holes: Stellar Feedback and Quasar Growth", Astrophysical Journal, 887, 120

Brummel-Smith, C. and 54 additional authors including Wise, J. H. 2019, "ENZO: An Adaptive Mesh Refinement Code for Astrophysics (Version 2.6)", Journal of Open Source Software, 4, 1636

Wise, J. H. 2019, "Introductory Review of Cosmic Reionization", Contemporary Physics, 60, 145

Qiu, Y., Bogdanovic, T., Li, Y., Park, K., Wise, J. H. 2019, "The Interplay of Kinetic and Radiative Feedback in Galaxy Clusters", Astrophysical Journal, 877, 47

Hummels, C. B., Smith, B. D., Hopkins, P. F., O'Shea, B. W., Silvia, D. W., Werk, J. K., Lehner, N., Wise, J. H., Collins, D. C., Butsky, I. S. 2019, "The Impact of Enhanced Halo Resolution on the Simulated Circumgalactic Medium," Astrophysical Journal, 882, 156

Peeples, M. S., Corlies, L., Tumlinson, J., O'Shea, B. W., Lehner, N., O'Meara, J. M., Howk, J. C., Smith, B. D., Wise, J. H. and Hummels, C. B. 2019, "Figuring Out Gas and Galaxies in Enzo (FOGGIE). I. Resolving Simulated Circumgalactic Absorption at 2 < z < 2.5," Astrophysical Journal, 873, 129

Wise, J. H., Regan, J. A., O'Shea, B. W., Norman, M. L., Downes, T. P., Hao, X. 2019, "Formation of massive black holes in rapidly growing pre-galactic gas clouds," Nature, 566, 85

Chiaki, G., Wise, J. H. 2019, "Seeding the second star: enrichment from population III, dust evolution, and cloud collapse," Monthly Notices of the Royal Astronomical Society, 482, 3933
2018
Norman, M. L., Chen, P., Wise, J. H., Xu, H. 2018, "Fully Coupled Simulations of Cosmic Reionization . III. Stochastic Early Reionization by the Smallest Galaxies", Astrophysical Journal, 867, 27 (arXiv)

Barrow, K. S. S., Aykutalp, A., Wise, J. H. 2018, "Observational signatures of massive black hole formation in the early universe", Nature Astronomy, 2, 987

Smith, B. D., Regan, J. A., Downes, T. P., Norman, M. L., O'Shea, B. W., Wise, J. H. 2018, "The growth of black holes from Population III remnants in the Renaissance Simulations", Monthly Notices of the Royal Astronomical Society, 480, 3762

Ardaneh, K., Luo, Y., Shlosman, I., Nagamine, K. Wise, J. H., Begelman, M. C. 2018, "Direct collapse to supermassive black hole seeds with radiative transfer: Isolated haloes", Monthly Notices of the Royal Astronomical Society, 479, 2277

Cote, B., Silvia, D., O'Shea, B. W., Smith, B., Wise, J. H. 2018, "Validating Semi-Analytic Models of High-Redshift Galaxy Formation using Radiation Hydrodynamical Simulations", Astrophysical Journal, 859, 67 (arXiv)

Latif, M., Volonteri, M., Wise, J. H. 2018, "Early growth of high redshift black holes", Monthly Notices of the Royal Astronomical Society, 476, 5016 (arXiv)

Luo, Y., Ardaneh, K. Shlosman, I. Nagamine, K. Wise, J. H., Begelman, M. C. 2018, "Direct collapse to supermassive black hole seeds with radiative transfer: Isolated haloes", Monthly Notices of the Royal Astronomical Society, 476, 3523

Corlies, L., Johnston, L., Wise, J. H. 2018, "Exploring early simulated star formation in the context of ultrafaint dwarf galaxies", Monthly Notices of the Royal Astronomical Society, 475, 4868

Koh, D., Wise, J. H. 2018, "Extending semi-numeric reionization models to the first stars and galaxies", Monthly Notices of the Royal Astronomical Society, 474, 3817 (arXiv)

Barrow, K. S. S., Wise, J. H., Aykutalp, A., O'Shea, B. W., Norman, M. L., Xu, H. 2018, "First light - II. Emission line extinction, population III stars, and X-ray binaries", Monthly Notices of the Royal Astronomical Society, 474, 2617 (arXiv)
2017
2016
2015
2014
2013
2012
2011
Kim, J.-H., Wise, J. H., Alvarez, M. A., & Abel, T. 2011, "Galaxy Formation with Self-consistently Modeled Stars and Massive Black Holes. I: Feedback-regulated Star Formation and Black Hole Growth", Astrophysical Journal, 738, 54

Wise, J. H. & Abel, T..  2011, "Enzo+Moray: Radiation Hydrodynamics Adaptive Mesh Refinement Simulations with Adaptive Ray Tracing", Monthly Notices of the Royal Astronomical Society, 414, 3458-3491
2010
van Meter, J. R., Wise, J. H., Miller, M. C., Reynolds, C. S., Centrella, J., Baker, J. G., Boggs, W. D., Kelly, B. J., & McWilliams, S. T. 2010, "Modeling Flows Around Merging Black Hole Binaries", Astrophysical Journal Letters, 711, 89-93
2009
Alvarez, M. A., Wise, J. H., Abel, T. 2009, "Accretion onto the First Stellar Mass Black Holes," Astrophysical Journal Letters, 133-137

Kim, J.-H., Wise, J. H., & Abel, T. 2009, "Galaxy Mergers with Adaptive Mesh Refinement: Star Formation and Hot Gas Outflow," Astrophysics Journal Letters, 694, 123-127

Wise, J. H., & Cen, R. 2009, "Ionizing Photon Escape Fractions from High Redshift Dwarf Galaxies," Astrophysical Journal, 693, 984-999
2008
Wise, J. H., & Abel, T. 2008, "Resolving the Formation of Protogalaxies. III. Feedback from the First Stars," Astrophysical Journal, 685, 40-56

Wise, J. H., & Abel, T. 2008, "How Very Massive Metal-Free Stars Start Cosmological Reionization," Astrophysical Journal, 684, 1-17

Wise, J. H.,  Turk, M. J., & Abel, T. 2008, "Resolving the Formation of Protogalaxies. II. Central Gravitational Collapse," Astrophysical Journal, 682, 745-757
2007
Wise, J. H., & Abel, T. 2007, "Suppression of H2 Cooling in the Ultraviolet Background," Astrophysical Journal, 671, 1559-1567

Wise, J. H., & Abel, T. 2007, "Resolving the Formation of Protogalaxies. I. Virialization," Astrophysical Journal, 665, 899-910

Abel, T., Wise, J. H., & Bryan, G. B. 2007, "The HII Region of a Primordial Star," Astrophysical Journal Letters, 659, 87-90
2006 and earlier
Kähler, R., Wise, J. H., Abel. T., & Hege, H.-C. 2006, "GPU-Assisted Raycasting of Cosmological Adaptive Mesh Refinement Simulations," Proceedings of Volume Graphics, pg. 103-110, Boston, USA

Wise, J. H. & Abel, T. 2005, "The Number of Supernovae from Primordial Stars in the Universe," Astrophysical Journal, 629, 615-624

Wise, J. H., Eracleous, M., Charlton, J. C., & Ganguly, R. 2004, "Variability of Narrow, Associated Absorption in Moderate- and Low-Redshift Quasars," Astrophysical Journal, 613, 129-150

Penny, L. R., Gies, D. R., Wise, J. H., Stickland, D. J., & Lloyd, C. 2002, "Tomographic Separation of Composite Spectra IX: The Massive Close Binary HD 115071," Astrophysical Journal, 575, 1050-1056