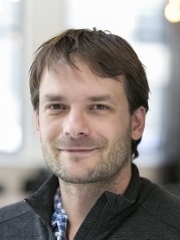 Education
Assistant Professor, Georgia Institute of Technology, Atlanta, Mar  2019 - Current.
Assistant Professor, Université de Sherbrooke, Sherbrooke, Oct 2016 - Feb 2019.
Assistant Project Scientist, University of California, Irvine, Sep 2014 - Sep 2016.
Sherman-Fairchild Prize Postdoctoral Scholar, California Institute of Technology, Sep 2011 - Sep 2014.
PhD Physics, University of Queensland, 2010.
BSc (Hons-1st) Applied Mathematics, University of Auckland, 2007.
BSc Physics and Mathematics, University of Auckland, 2005.
Research Interests
My research is focused on the development of novel theoretical and numerical tools for modelling quantum many-body systems.
Tensor network states and algorithms

Real-space renormalization group

Numerical methods for systems of strongly correlated electrons

Entanglement and quantum information

Quantum criticality and phase transitions

AdS/CFT duality and holography

Machine learning and tensor networks